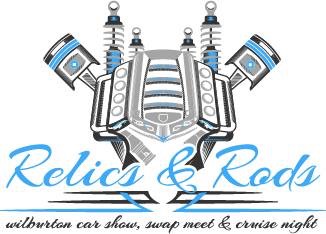 This year Wilburton Main Street will be launching a Car Show/Swap Meet to accompany our first Cruise Night of the summer.  This three day event takes place on June 23rd, 24th and 25th. The schedule of events includes the Swap Meet which begins on Friday, June 23rd and will remain open each day until 5:00 p.m. through Sunday, June 25th.  There will also be food and craft vendors throughout the three days.  On Saturday June 24th, the Car Show Vehicle Registration starts at 8:00 a.m.- 11:00 a.m.  Community State Bank will be providing food for the participants following the car show at 3:00 p.m..  Awards will be announced at 4:00 p.m.  There will be live Music provided by "Larmie" sponsored The Latimer County Arts Council.  The band will play from 5:00 p.m.-7:00 p.m..  We begin the evening by Cruising Main Street during the first Cruise Night of the summer. From classics to newest models, all vehicles are welcome and encouraged to participate.  Watch for restaurant specials and other deals around town going on during Cruise Night. We welcome everyone to participate by cruising or by sitting back and watching all the cars and entertainment from your favorite spot on Main Street. To sign up for the best "Best Cruise" trophy for 2017, swing by Alpine Ice and get registered. There will also be two $50 dollar give aways to carshow participants that cruise with their carshow entry numbers displayed. We are excited to announce we will be having another Burnout during Cruise Night located at Mark's Towing.  The Burn out will take place at 7:00 PM at 1314 NW Highway 2. Registration will begin at 6:30 at Mark's shop.  Donations  will be accepted. All proceeds will go to Wilburton Main Street.
The Car Show will feature a 50/50 Door Prize.  Pre-Registration is $10 and day of show is $15.  Pre-Registration Deadline is June 16th at 5:00.  Pre-registration can be done at the Wilburton Main Street Office, 302 W. Main Street, between 8:00 AM and 4:00 PM weekdays.  There are also cards in several places around town advertising this event.  Registration forms are on the back of those and can be filled out and returned to the Main Street office.
This is a rain or shine event.
We truly appreciate the help from the volunteers who have participated in the planning of this event.
We would also like to say a BIG THANK YOU to the following sponsors. Without them, this event would not be possible: Houstons Heating and Air, Pizza Hut, Martin Dunn, House of Beauty, First National Bank, Whitney Lewis with State Farm, Cartridge World, Lil' Marvs, Sun Baby, Camo and Lace, Steves' Tire, A-OK Railroad, Will Cocke Insurance, Farm House Café, McAlester Union, Gowen Mountain Speed Shop, Crockett's Drop Shop, A&A Tank, Sledge Hammer Customs of Wilburton, CraftnVinyl, O'Reilly's and Williams Chevrolet.  We would also like to thank Alford Metals for producing unique well-made trophies, Community State Bank for providing dinner for the participants and The Latimer County Arts Council for sponsoring the band.